Original VINTAGE MR MACHINE IDEAL 1960 Robot, Box, Instructions, Wrench WORKS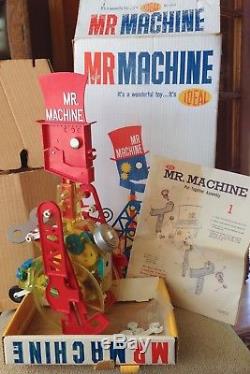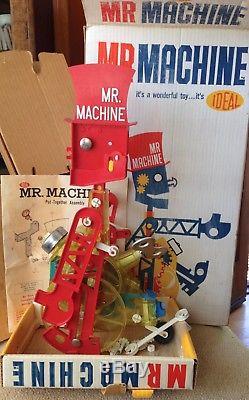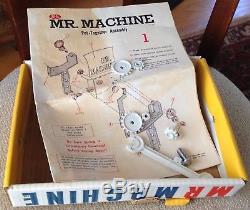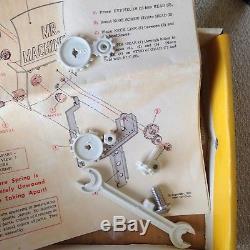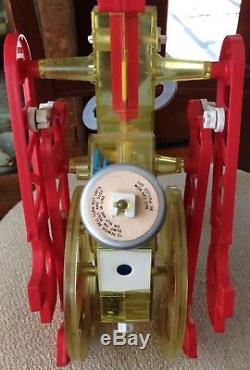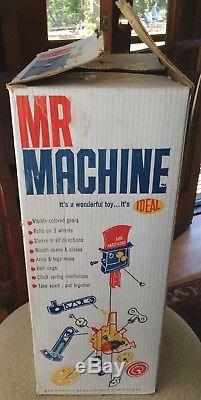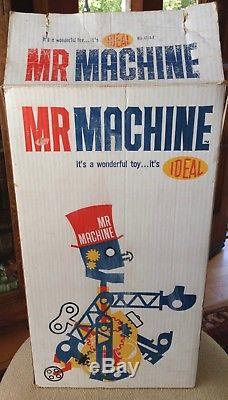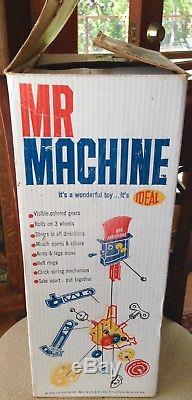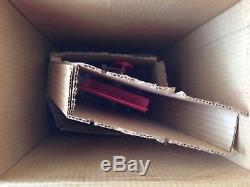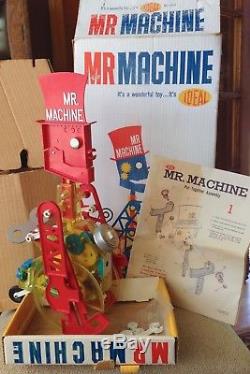 This is the ORIGINAL 1960 Mr. He stands about 18 tall.
He is in his original box, and has been safely stored for many decades in the home of his original owner. The box includes the cardboard Mr. Machine stand (seen upside down in the photos), as well as a little bag of extra plastic parts, the white wrench so often missing! , the instructions, and even the two original cardboard inserts that stabilize him in his box.
I have not taken him apart to count the pieces, but he certainly looks like he is all here. When I wind him up in back, he rolls across the floor -- my dog is terrified of him! The bell in front rings loudly. I know he is supposed to make an AHHH sound, too, but I can't discern that -- it's less like a voice and more like a mechanical noise.
I don't see any damage -- no cracks, gears seem to turn smoothly. I don't know if the extra plastic pieces are truly extras, or if the boy who assembled him left parts out, but he seems to work well as he is. One side of the tiny white plastic piece that holds his jaw looks a bit melty but I'm being picky. It still holds his jaw just fine.
The instructions are yellowed with age, but here and complete. This guy will be packed in his original box with plenty of air pockets to support him along with the original cardboard inserts. Machine was created by toy designer Marvin Glass, known for many popular 1960s & 1970s toys.
The story goes that Marvin Glass was working so hard at the time, his wife said he was like a machine. Soon after her comment, he invented Mr. Machine was a robot-like mechanical man wearing a top hat. The body had a giant windup key at the back. When the toy was wound up it would walk, swinging its arms and repeatedly ringing a bell mounted on its front; and after every few steps emit a mechanical Ah! , as if it were speaking. The toy stood about 18 inches tall (roughly 46 cm). Machine was primarily made of plastic. This was unique for its time.
Innovations in plastic and injection moulding allowed toy manufacturers to produce parts less expensively than previous manufacturing techniques. Packaged as a building kit, the box contained 44 individual pieces along with a plastic wrench. Machine was complete with a top hat, bell, swinging arms, and an articulated jaw.
The toys clockwork mechanism of wheels and gears could be seen through the its transparent plastic body. Machine walked (technically, he rolls) forward as his arms and legs moved and his mouth opened and closed as its internal gears turned. Machine was that one could not only see all of his mechanical "innards" through his clear plastic body, but one could also take the toy apart and put it back together, over and over, like a puzzle. The item "Original VINTAGE MR MACHINE IDEAL 1960 Robot, Box, Instructions, Wrench WORKS" is in sale since Sunday, April 22, 2018.
This item is in the category "Toys & Hobbies\Vintage & Antique Toys\Wind-up Toys". The seller is "sundayvisit" and is located in Windsor, California.
This item can be shipped to United States.
Brand: Ideal
Year: 1960
Country/Region of Manufacture: United States

---