1968 Technofix Nr. 320 Alpine Panorama In Working/condition Order With Box! Rare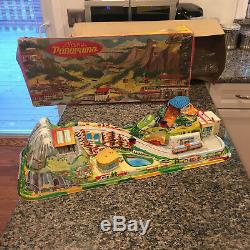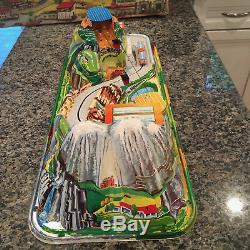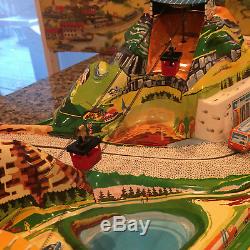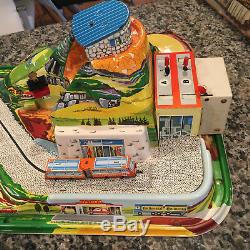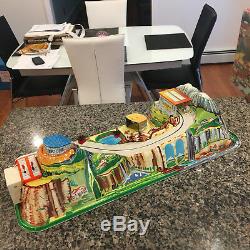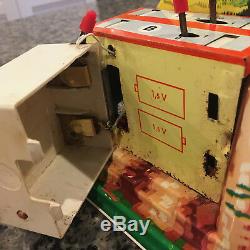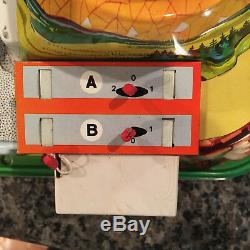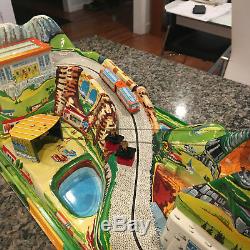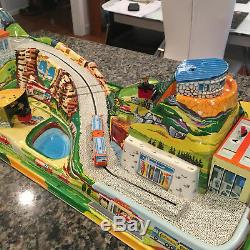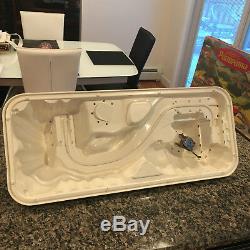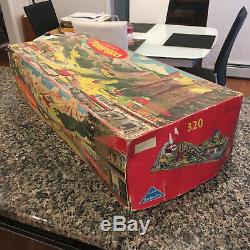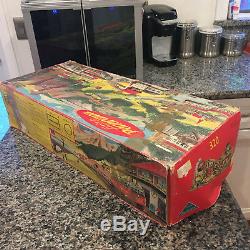 THIS IS THE MODEL NUMBER 320 WHICH WAS THE FIRST OF THREE (3) ITEMS OFFERED IN 1968. AS SUCH THIS IS/WAS MADE IN LATE 1967 IN WESTERN GERMANY, THIS IS TECHNOFIX'S BATTERY POWERED "ALPINE PANORAMA". THIS ALPINE PANORAMA MODEL/TRACK IS IN PERFECT WORKING CONDITION! THE MOLDED TRACK IS IN EXCELLENT TO SHOWCASE OVERALL SHAPE/CONDITION! KEEP IN MIND THAT THIS IS AN ORIGINAL EXAMPLE OF THIS RARE, ORIGINAL AND FULLY WORKING ITEM FROM MARKE/TECHNOFIX FROM WESTERN GERMANY.
THE COLOR ON THE PLASTIC AND THE TIN LITHOGRAPHY ARE IN EXCELLENT ALL AROUND CONDITION AS IT HAS BEEN MORE THAN WELL CARED FOR IN MY HEATED BASEMENT FOR MANY A DECADES NOW. THE BASE IS MADE PLASTIC AND THIS PLASTIC IS STRETCHED OUT BY USING A SET OF DIES (MALE & FEMALE), HEAT, PRESSURE VIA HYDRAULICS. IN THE LATER YEARS THEY (INVENTORS) DEVELOPED VACUUM FORMING WHICH REPLACED THIS COSTLY TYPE OF MANUFACTURING. WHAT MAKES THIS PARTICULAR ALPINE PANORAMA SO SPECIAL IS THAT NOT ONLY IS IT IN EXCELLENT OVERALL CONDITION/SHAPE, WITH NO TWEAKS OR CRACKS ON THE BASE, IT HAS THE TWO (2) ORIGINAL GONDOLAS/LIFTS AND THE ORIGINAL TWO CABIN/CAR EXTENDED TRAIN!
YOU ALSO HAVE THE ORIGINAL BOX (MORE ON THIS LATER) AND IT IS IN WORKING ORDER! THE ORIGINAL BOX IS INCLUDED AND IS IN FAIR OVERALL CONDITION/SHAPE.
YOU DO HAVE A LOT OF TAPE RESIDUE ON THE LID AND BASE OF THE BOX. FOR SOME REASON, THIS WAS TAPED UP (FOR NO APPARENT REASON) AND THIS TAPE HAS FALLEN OFF OVER THE DECADES... YOU HAVE SOME NEWER TAPE PLACED ON ONE OR TWO OF THE CORNERS AND ON AN EDGE. MY SON DID THIS ABOUT 8 YEARS AGO....
HE THOUGHT IT WAS A GOOD IDEA AT THE TIME. THE COLORES ARE STILL NICE AND IT DOES DISPLAY WELL WITH THE BASE. THE ORIGINAL INSTRUCTIONS ARE PRINTED ON ONE OF THE LIDS LARGER PANELS.
AS YOU CAN SEE THIS HAS BEEN WELL STORED OVER THE DECADES. AS FAR AS THE BASE GOES, HONESTLY, YOU'LL BE HARD PRESSED TO LOCATE ONE IN BETTER OVERALL CONDITION/SHAPE!! THE ORIGINAL 4 LOCATIONS OF TIN LITHOGRAPHY ARE IN VERY GOOD TO EXCELLENT SHAPE/CONDITION.
THE BASES GRAPHICS ARE VERY CLEAN AND STILL SHINY AND WITH THIS EXAMPLE, YOU HAVE VERY LITTLE DISTORTION DUE TO THE STRETCHING PROCESS (VERY COMMON WITH THIS STYLE OF PRODUCTION). THIS IS NOT A CLOCKWORK OR GRAVITY FED ITEM, IT IS BATTERY OPERATED AND UTILIZES A CLEVER TRANSMISSION TO GO ABOUT PERFORMING IT'S FUNCTIONS.
TO USE THIS MODEL, YOU SIMPLY REMOVE IT FROM IT'S BOX AND PLACE IT DOWN ON AND FIRM AND LEVEL SURFACE. ON ONE END YOU HAVE A BATTERY COMPARTMENT WHICH ACCEPTS TWO (2) SIZE "D" BATTERIES (NOT INCLUDED). AT ONE TIME, THE BATTERIES WERE LEFT IN THIS COMPARTMENT FOR A PROLONGED PERIOD OF TIME. AND AS SUCH, ONE (1) OF THE BATTERIES LEAKED WHICH CAUSED SOME SLIGHT CORROSION IN THE TIN BASE.
THE LID OR WHERE THE BATTERIES GO IS MADE OF PLASTIC SO NO DAMAGE OCCURRED HERE, BUT, THE BATTERY CONTACTS WERE REPLACED A COUPLE OF DECADES AGO BY MY DAD.... AS HE SAID, JUST TO BE SAFE! ON THE BASE ITSELF, IT DID HAVE A SLIGHT REACTION.
MOST OF THE DAMAGE IS HIDDEN BELOW THE PLASTIC BATTERY COVER AND ALTHOUGH THIS DAMAGE IS VERY MINOR, IT SHOULD BE NOTED. THE BATTERY DOOR LOCKS TIGHTLY AND OPENS AND CLOSED AS DESIGNED. BOTH BATTERIES ARE HELD TIGHTLY WITHIN THIS AREA AND THE "ON/OFF" SWITCH WORKS PERFECTLY AS DOES THE "A" AND "B" SWITCHES.
ONCE POWERED UP, THE "A" SWITCH HAS 2 DIRECTIONS TO GO. THEY CALL THIS "1" AND "2" I CALL IT "UP" AND "DOWN"! AS THIS SWITCH CONTROLS THE TRAINS DIRECTION. WHEN YOU SLIDE THE LEVER TO "1" THE TRAIN GOES "UP" THE BEAUTIFUL LANDSCAPE TO THE TOP OF THE MOUNTAIN.
ONCE ALL THE WAY UP AND INTO THE STATION, YOU CAN SWITCH "A" TO "0" WHICH IS "NEUTRAL" THIS WILL STOP THE INTERNAL DRIVE FROM GOING FORWARD... BUT, THE ENGINE WILL STILL BE ON AND RUNNING. AT ANY TIME YOU CAN SLIDE THE SECOND SWITCH "B" FROM "0" TO "1".
THIS WILL POWER UP THE GONDOLAS OR LIFTS AND SEEING HOW THESE LOOP AROUND AUTOMATICALLY, THERE IS NO REASON TO HAVE THE TRANSMISSION REVERSE IT'S DIRECTION. YOU CAN LEAVE THIS "ON" OR SWITCH IT "OFF" (BACK TO "0") AT COMMAND. NOW BACK TO SWITCH "A". WITH THE TRAIN NOW IN THE UPPER STATION, YOU CAN RECALL IT AT ANY TIME BY SWITCHING "A" TO "2" OR "DOWN" AS I CALL IT. WITH THIS DONE, THE TRAIN WILL START IT'S DOWNWARDS DESCEND. THIS TRAIN IS TOUCHY, BUT, YOU NEED TO MAKE SURE THAT BOTH PLASTIC PINS ARE FULLY DOWN INTO THE SPRING TRACK.
YOU HAVE THE SMALL PLASTIC BUTTONS A TOP THE TRAIN'S TO ASSIST YOU HERE. LOCATED IN THE CENTER OF THE TRAIN YOU HAVE A TINY METAL NIPPLE.
ALTHOUGH THIS DOES NOT TOUCH THE SPRING DRIVE, IT DOES GUIDE THE TRAIN AROUND THE CORNERS TO PREVENT IT FROM JACK-KNIFING. YOU MIGHT HAVE TO TURN THE TRAIN AROUND TO GET THIS RIGHT, YOU'LL KNOW WHEN IT'S RIGHT AS IT WILL OPERATE AS DESIGNED AND CRUSE UP AND DOWN EFFORTLESSLY. THE TRANSMISSION AND POWERFUL ELECTRIC ENGINE IN THIS ALPINE PANORAMA ARE 100% ORIGINAL AND BOTH WORK PERFECTLY. AS WITH ALL VINTAGE MODELS AND TOYS, IT WILL TAKE SOME GETTING USE TO, BUT ONCE IT'S SET-UP CORRECTLY, YOU'LL HAVE DECADES OF SMILES AHEAD OF YOU!
ONCE AGAIN, THE ORIGINAL BOX IS IN FAIR CONDITION FOR ITS AGE AND THE COLOR ON THE BOX'S TOP IS NOT AS SHARP AS TODAY'S STANDARDS, BUT, STILL SHARP AND CLEAN. KEEP IN MIND THAT THE PRINTING WAS DONE IN WESTERN GERMANY BACK IN 1967/1968! ALL OF THE BOX IS ORIGINAL AND PRESENT. AND FOR WHO KNOWS HOW LONG! NOTHING IS MISSING AND IT IS 100% ORIGINAL AND AS MENTIONED ABOVE FULLY OPERATIONAL!!
ALL YOU WILL HAVE TO DO IS TO CAREFULLY OPEN IT UP AND PLACE THE BASE DOWN AND INSERT THE BATTERIES AND THE TRAIN (SOME SLIGHT TWEAKING WILL BE NEEDED HERE) AND OFF YOU GO! ALL OF WHAT YOU SEE IN MY PICTURES IS ORIGINAL AND UNTOUCHED...
THE UNDERSIDE IS AS NICE AS THE PLASTIC BASE'S TOP! YOU DO HAVE A FEW TINY STRESS CRACKS, BUT THIS IS VERY COMMON AND ACCEPTABLE WITH THIS TYPE OF BASE.
THESE IN NO WAY INTERFERE WITH IT'S OPERATION OR LONGEVITY. I TAKE PRIDE IN MY ITEMS/MODELS THAT I OFFER HERE IN THE E-BAY WORLD. I DO HAVE OPTIONS AND I CHOOSE TO OFFER ONLY THE VERY FINEST THAT I HAVE AVAILABLE. I TEST EVERYTHING PRIOR TO LISTING THEM AND ONCE AGAIN PRIOR TO SENDING THEM OFF. I DO THIS SO WE WILL BOTH BE VERY HAPPY WITH THE END RESULT, IT'S THE ONLY WAY I DO THINGS! PLEASE TAKE A GOOD LOOK AT THESE PICTURES AS THEY DO A FAR BETTER OF SHOWING YOU EXACTLY WHAT IT IS THAT YOU WILL RECEIVE FROM ME VS. THE WORDS ABOVE AND BELOW HERE. AND IF YOU HAVE ANY QUESTIONS OR DESIRE ADDITIONAL PICTURES, PLEASE FEEL FREE TO CONTACT ME VIA E-BAY MESSAGING AND I WILL DO THE REST! THIS IS A RELATIVELY NEW STORE FOR ME HERE ON E-BAY, BUT, I COME WITH A WELL OILED AND POLISHED TRACK RECORD! A GOLD T/RATED POWERSELLER WITH OVER 8 YEARS OF THIS STATUS BACKING ME.
I SPECIALIZE IN PRIMARILY THE AUTOMOTIVE FIELD AND I CONCENTRATE WITH/ON PORSCHE, BENTLEY, AUDI AND "PORSCHE DESIGN" ITEMS/ACCESSORIES. I HAVE A UPS ACCOUNT AND MOST OF MY OFFERINGS HERE SHALL BE SENT THAT WAY.
I PACK EACH AND EVERY ITEM MYSELF AND DO SO AS IF I WERE RECEIVING IT. UNFORTUNATELY, IN THE PAST I HAVE HAD SOME RUN-INS WITH SOME VERY SCRUPULOUS INTERNATIONAL BUYERS, WHO BY THEIR NATURE "DO NOT PLAY WELL WITH OTHERS". CONSEQUENTLY, I HAVE BEEN FORCED TO USE EBAYS GSP AS THIS DOES OFFER "WE THE SELLERS" SOME ADDITIONAL PROTECTION FROM THESE FOLKS. INTERNATIONAL BUYERS, PLEASE READ THE VERY BOTTOM OF THIS SECTION AS THIS DOES APPLY TO YOU. AS MENTIONED ABOVE, THIS IS A NEW AREA FOR ME (HERE ON E-BAY) AND I DO TRY MY BEST TO DO AS GOOD AS I CAN. THIS HAS BECOME A FULL TIME BUSINESS FOR ME AND I REALLY ENJOY DOING IT. I WILL CONTINUE TO DO SO TILL IT BECOMES A BURDEN AND I CAN NO LONGER ENJOY IT. I WILL BE ADDING TO THIS STORE WEEKLY (OR TRYING TO) AND HOPEFULLY YOU WILL SEE THAT I DO EXACTLY WHAT I SAY AND DO SO IN A VERY TIMELY FASHION. I HAVE DOZEN S OF OTHER TECHNOFIX , ARNOLD AND BANDAI ITEMS. BE SURE TO CHECK ME OUT OFTEN AS YOU'LL NEVER KNOW WHEN YOU MIGHT SEE THA T SOMETHING SPECIAL WHICH MIGHT JUST FILL THAT VOID IN YOUR PERSONAL COLLECTION! THIS IS WHERE I THANK YOU FOR YOUR TIME IN READING ALL OF THE ABOVE. IN ORDER TO VIEW MY LISTINGS IN A CONCISE AND ORDERLY FASHION, ALL YOU NEED DO IS TO LOCATE THAT SMALL. DOOR A TOP THIS PAGE. THIS IS LOCATED JUST BELOW MY SELLERS ID AND FEEDBACK TALLY. THE VIRTUAL DOOR TO MY STORE HERE ON E-BAY! IN ORDER TO STREAMLINE YOUR SEARCH FURTHER, ONCE YOUR IN MY STORE, TO THE LEFT YOU WILL SEE A "SEARCH" BAR, IF YOU'D LIKE TO SEE JUST MY MODEL CARS, JUST TYPE IN "MODEL CAR" AND JUST MY LISTED MODEL CARS WILL POP-UP. IF YOU'D LIKE TO SEE SOME LP'S...
I THINK YOU GET THE GIST OF THIS NOW! I HAVE A LIST OF CATEGORIES THAT WILL ASSIST YOU IN STREAMLINING YOUR SEARCH AS WELL. A NEW CATEGORY HAS BEEN ADDED WHICH IS "VINTAGE/ANTIQUE TOYS", BE SURE TO CHECK THIS OUT!
ONCE AGAIN, I THANK YOU FOR YOUR CONSIDERATIONS ON THIS EVER-SO-LIGHTLY USED MARKE/TECHNOFIX NUMBER 2 90/2 TOBOGGON. FROM 1958 AND FOR ANY OTHER CONSIDERATIONS THAT YOU MIGHT HAVE GIVEN ME IN THE PAST.....
The item "1968 TECHNOFIX NR. 320 ALPINE PANORAMA IN WORKING/CONDITION ORDER WITH BOX! RARE" is in sale since Sunday, March 31, 2019.
This item is in the category "Toys & Hobbies\Vintage & Antique Toys\Wind-up Toys".911" and is located in Coventry, Rhode Island. This item can be shipped worldwide.
Year: 1968
Brand: MARKE/TECHNOFIX
THIS TECHNOFIX MODEL WAS/IS:: MADE IN WESTERN GERMANY.


---