1969 TECHNOFIX NR. 326 LOOP THE LOOP IN SHOWCASE CONDITION, FULLY WORKING WithBOX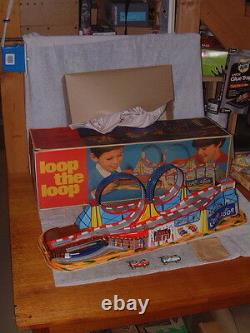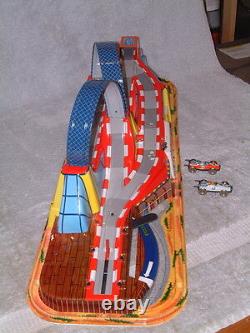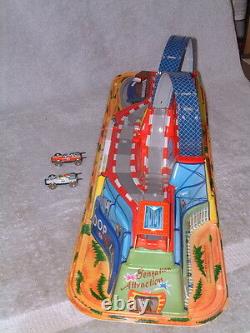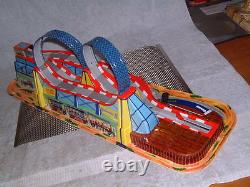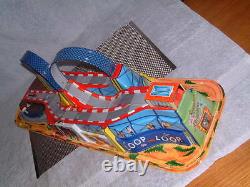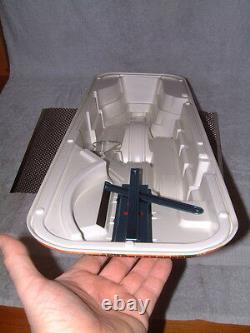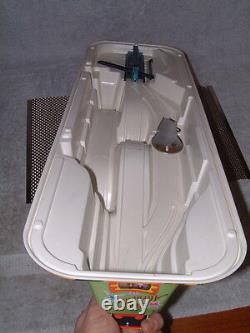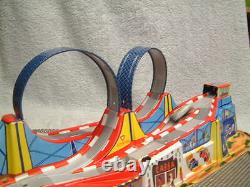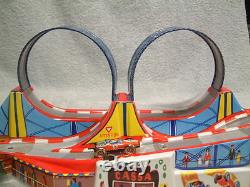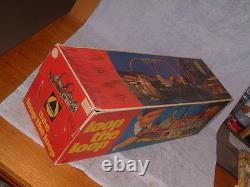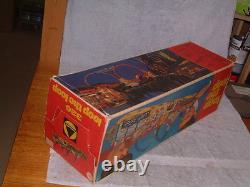 THIS IS THE MODEL NUMBER 326 WHICH WAS THE FOURTH (4TH) OF FIVE (5) ITEMS OFFERED IN 1969. AS SUCH THIS IS/WAS MADE IN MID TO LATE 1969 IN WESTERN GERMANY.
THIS NUMBER 326 IS KNOWN AS THEIR "LOOP THE LOOP" SET. THIS LOOP THE LOOP MODEL/TRACK/SET (HEREAFTER REFERRED TO AS "SET") IS IN PERFECT WORKING CONDITION! THE BASE ITSELF IS IN EXCELLENT TO SHOWCASE OVERALL SHAPE/CONDITION!
KEEP IN MIND THAT THIS IS AN ORIGINAL EXAMPLE OF THIS RARE, ORIGINAL AND FULLY WORKING ITEM FROM MARKE/TECHNOFIX FROM WESTERN GERMANY. IN FACT, MOST OF THESE SETS ARE KNOWN FOR THE CORNER SECTIONS TO CRACK AND SOMETIMES THE LAUNCHER AREA IS ALSO CRACKED DUE TO USAGE! YOU HAVE NO SUCH ISSUE WITH THIS LOOP THE LOOP! THE COLOR OF THE PLASTIC BASE IS BRIGHT AND SHARP.
THE BASE IS PLASTIC AND IS SIMILAR TO WHAT WE CALL TODAY "INJECTION MOLDING". HOWEVER, BACK IN THE DAY THEY USED A LARGE HYDRAULIC PRESS AND TWO PAIR OF DIES (A TOP AND A BOTTOM) AND A FURNACE TO HEAT UP THE DIES TO FORM THESE BASES. FROM THERE THEY ADDED ANY OF THE VARIOUS TIN SECTIONS AND TRACK SECTIONS (IF NECESSARY). THIS LOOP THE LOOP HAS THREE (3) TIN SECTIONS AND THESE ARE BOTH LOOPS ARE TIN AS WELL AS THE SMALL GARAGE WHICH EACH RACE CAR ENTERS INTO IT GOING FORWARDS AND THEN BACKS OUT AND GETS BACK INTO IT'S QUE TO BE RELAUNCHED!
WHAT MAKES THIS SET SO SPECIAL IS THAT NOT ONLY IS IT IN PERFECT ASCETIC CONDITION, WITH NO TWEAKS, CRACKS OR BREAKS ON THE BASE, IT HAS THE TWO (2) ORIGINAL RACE CARS IN PERFECT WORKING CONDITION/ORDER. BOTH OF THESE RACE CARS HAVE NO CLOCKWORK DRIVE AND USE THE SPRING LOADED LAUNCHER TO GO THROUGH THIS TRACK. MORE OFTEN THEN NOT, THE TINY DUAL EXHAUST ALWAYS SEEMS TO BREAK OFF OF THESE RACE CARS, WITH THESE RACE CARS YOU HAVE NO SUCH ISSUE! THE ORIGINAL BOX IS INCLUDED AND CONSIDERING IT'S SIZE AND AGE, IS IN GOOD TO VERY GOOD OVERALL SHAPE/CONDITION.
THE ORIGINAL INSTRUCTIONS ARE PRINTED ON ONE OF THE BOXES SIDE PANELS. AS YOU CAN SEE THIS HAS BEEN WELL STORED OVER THE DECADES IN MY HEATED BASEMENT. I WOULD PUT THIS EXAMPLE UP AGAINST ANY OTHER EXAMPLE... YOU REALLY HAVE A WONDERFUL EXAMPLE WITH NO ISSUES AS I MENTIONED EARLIER. IN ADDITION, A LOT OF THESE BASES FADED OVER TIME..... THIS HAPPENED PRIMARILY DUE TO THE WAY THESE WERE FORMED. THE PLASTIC SHEETS WERE PRINTED PRIOR TO THEM BEING FORMED AND THIS FORMING PROCESS HAD A TENDENCY TO THIN OUT THE LITHOGRAPHY AT THE CORNERS CAUSING IT TO APPEAR FADED WHEN IN REALITY, IT WAS SIMPLY STRETCHED OUT! THE ORIGINAL TIN RACE CARS ARE IN EXCELLENT TO SHOWCASE SHAPE/CONDITION AS WELL. THE TIN LITHOGRAPHY IS VERY CLEAN AND STILL SHINY. THE CHASSIS ON THESE TINY RACE CARS ARE MADE FULLY OF PLASTIC WITH METAL WHEELS. BOTH OF THESE VEHICLES HAVE NO ISSUES AS BOTH OFF THESE VEHICLES WORK AND WORK PERFECTLY AND AS DESIGNED, THEY ARE ORIGINAL TO THIS SET! TO USE THIS MODEL, YOU SIMPLY UNPACK IT FROM IT'S ORIGINAL BOX AND PLACE IT DOWN ON ANY LEVEL AND HARD SURFACE. NEXT TAKE AN OVERVIEW OF THE SET AND YOU'LL NOTICE THAT LOCATED IN THE VERY FRONT, CENTERED BETWEEN THE LOOPS, YOU HAVE A TIN TAB, WHICH WHEN DEPRESSED, WILL ALLOW A SINGLE RACE CAR TO ENTER INTO THE LAUNCH AREA/SECTION.
YOU'LL ALSO NOTICE THAT YOU HAVE ANOTHER METAL LEVER, LOCATED TO THE LEFT, WHICH YOU WILL HAVE TO "COCK" IN ORDER TO LAUNCH THE RACE CAR'S CATAPULT. THIS METAL LEVER NOT ONLY LOCKS THE CATAPULT, BUT, ALSO RELEASES IT WHICH WILL PROJECT THE RACE CAR THROUGH THE TRACK.... NOW YOU UNPACK BOTH RACE CARS FROM THEIR ORIGINAL PAPER BAG (ALSO INCLUDED) AND PLACE THESE ON THE TRACK SO THEY ARE BACKWARDS OR FACING TO THE RIGHT.
PLACE BOTH CARS IN THE FIRST TRACK WHERE YOU FOUND THE FIRST METAL TAB (LOCATED BETWEEN THE LOOPS). NEXT YOU NEED TO "COCK" THE CATAPULT AND/OR LAUNCH SYSTEM AND TO DO THIS YOU SIMPLY SLIDE THE METAL LEVER THAT YOU FOUND EARLIER, LOCATED AT THE FRONT LEFT OF THIS TRACK, ALL THE WAY TO THE LEFT, TILL IT CLICKS "LOCKED". YOU WILL LEAVE IT IN THIS POSITION, TILL YOUR READY TO LAUNCH YOUR FIRST RACE CAR. NEXT YOU PRESS THE SMALLER METAL TAB (IN THE CENTER) FOR A SECOND AND THEN RELEASE IT AS THIS WILL ALLOW A SINGLE RACE CAR TO ENTER ONTO THE CENTER TRACK AND IT WILL BACK INTO THE CATAPULT, VIA GRAVITY. NOW YOUR SET TO WATCH THE ACTION! NOW YOU SLIDE THE METAL LEVER TO THE RIGHT AND NEAR THE VERY END, IT WILL RELEASE THE TENSION OF THE SPRING WHICH YOU COCKED EARLIER AND THE CATAPULT (SMALL RED LEVER WHICH RESTS AGAINST THE REAR OF THE RACE CAR) WILL BE RELEASED THUS, PUSHING THE RACE CAR AT A HIGH SPEED IN THE FORWARD DIRECTION. I ALWAYS PLACE MY LEFT HAND AT THE FAR LEFT CORNER OF THE TRACK WHEN RELEASING THE CATAPULT WITH MY RIGHT HAND. WITH THE SET BEING HELD ALL OF THE POWER IS USED TO CATAPULT THE RACE CAR INTO MOTION AND YOU DO NOT LOOSE ANY OF THE STORED ENERGY.
THE RACE CAR WILL JET RIGHT OFF AND FLY AROUND THE FIRST LOOP SO FAST, YOU'LL BARELY BE ABLE TO SEE IT! YOU'LL GET A BETTER CHANCE TO SEE THE RACE CAR AT THE SECOND LOOP AS THE RACE CAR SLOWS DOWN AS THE ENERGY IS USED. WHEN THE RACE CAR EXITS THE SECOND LOOP, IT GOES INTO THE TIN GARAGE WHICH IS LOCATED TO THE FAR RIGHT SIDE A TOP THE INCLINE WHICH WILL STOP IT'S FORWARD MOMENTUM AND ALLOW THE CAR TO SLOWLY BACK OUT AND RE-ENTER THE QUE TO BE LAUNCHED ONCE MORE. THIS REVERSING OF THE RACE CAR IS KEY AND GRAVITY, ONCE MORE KICKS IN AS THE CAR SLOWLY GOES DOWN THE INCLINE AND QUES UP ONCE MORE. YOU CAN SEE THAT IN TWO OF MY PICTURES THE RACE CARS ARE FLYING AROUND THE TRACK.
YOU CAN SEE THE "BLURRRR" OF THE CARS WHILE THE BASE IS CLEAR AND SHARP. I HAD A SERIES OF PICTURES, BUT I FELT IT MORE IMPORTANT TO SHOW THE OVERALL QUALITY OF THIS SET, VS.
"BLURRRRED" PHOTOS OF THE VEHICLES IN ACTION/MOTION. ONCE AGAIN, THE ORIGINAL BOX IS HERE AND IN GOOD CONDITION FOR ITS AGE AND SIZE. THE COLOR ON THE BOX IS NOT AS SHARP AS TODAY'S STANDARDS, BUT, STILL SHARP AND CLEAN. KEEP IN MIND THAT THE PRINTING WAS DONE IN WESTERN GERMANY BACK IN 1969! ALL OF THE BOX IS ORIGINAL AND PRESENT. AND YOU HAVE NO ADDED TAPE OR GLUE USED ANYWHERE ON OR IN THIS SET, TO INCLUDE THE BOX ITSELF. WITHOUT A DOUBT, AT THIS TIME, THIS IS THE FINEST AND MOST COMPLETE EXAMPLE AVAILABLE OF THIS LOOP THE LOOP NR. AND FOR WHO KNOWS HOW LONG! NOTHING IS MISSING AND IT IS 100% ORIGINAL AND AS MENTIONED ABOVE FULLY OPERATIONAL!! ALL YOU WILL HAVE TO DO IS TO CAREFULLY OPEN IT UP AND ENJOY!
WITH A LITTLE DILIGENCE AND CARE, YOU'LL BE ABLE TO GET MANY ADDITIONAL DECADES OF USE AND PLEASURE OUT OF THIS CONEY ISLAND SET AS I HAVE. ALL OF WHAT YOU SEE IN MY PICTURES ARE ORIGINAL AND UNTOUCHED AND I DO ASK THAT YOU TAKE A GOOD LOOK AT THESE PICTURES AS THESE DO A FAR BETTER JOB OF SHOWING YOU EXACTLY WHAT IT IS THAT YOU WILL BE RECEIVING FROM ME VS. I TAKE PRIDE IN MY ITEMS/MODELS THAT I OFFER HERE IN THE E-BAY WORLD.
I DO HAVE OPTIONS AND I CHOOSE TO OFFER ONLY THE VERY FINEST THAT I HAVE AVAILABLE. I TEST EVERYTHING PRIOR TO LISTING THEM AND ONCE AGAIN PRIOR TO SENDING THEM OFF. I DO THIS SO WE WILL BOTH BE VERY HAPPY WITH THE END RESULT, IT'S THE ONLY WAY I DO THINGS! THIS IS A RELATIVELY NEW STORE FOR ME HERE ON E-BAY, BUT, I COME WITH A WELL OILED AND POLISHED TRACK RECORD! A GOLD T/RATED POWERSELLER WITH OVER 8 YEARS OF THIS STATUS BACKING ME.
I SPECIALIZE IN PRIMARILY THE AUTOMOTIVE FIELD AND I CONCENTRATE WITH/ON PORSCHE, BENTLEY, AUDI AND "PORSCHE DESIGN" ITEMS/ACCESSORIES. I HAVE A UPS ACCOUNT AND MOST OF MY OFFERINGS HERE SHALL BE SENT THAT WAY. I PACK EACH AND EVERY ITEM MYSELF AND DO SO AS IF I WERE RECEIVING IT. THIS TECHNOFIX LOOP THE LOOP NUMBER 326 WILL BE SENT VIA UPS AND WILL BE FULLY INSURED.
UNFORTUNATELY, IN THE PAST I HAVE HAD A FEW RUN-IN'S WITH SOME SCRUPULOUS BUYERS, WHO BY THEIR VERY NATURE "DO NOT PLAY WELL WITH OTHERS". I HAVE NO CONTROL OR SAY IN THIS MATTER, SO PLEASE DO NOT FAULT ME FOR THIS ACTION. ONCE AGAIN, PLEASE TAKE A GOOD LOOK AT THESE PICTURES AS THEY DO BECOME AN IMPORTANT AND VITAL PART OF MY DESCRIPTION AND IF YOU REQUIRE ANY ADDITIONAL PICTURES, PLEASE FEEL FREE TO CONTACT ME VIA E-BAY MESSAGING AND I WILL DO THE REST! AS MENTIONED ABOVE, THIS IS A RELATIVELY NEW AREA FOR ME (HERE ON E-BAY) AND I DO TRY MY BEST TO DO AS GOOD AS I CAN. THIS HAS BECOME A FULL TIME BUSINESS FOR ME AND I REALLY ENJOY DOING IT.
I WILL CONTINUE TO DO SO TILL IT BECOMES A BURDEN AND I CAN NO LONGER ENJOY IT. I WILL BE ADDING TO THIS STORE WEEKLY (OR TRYING TO) AND HOPEFULLY YOU WILL SEE THAT I DO EXACTLY WHAT I SAY AND DO SO IN A VERY TIMELY FASHION.
INTERNATIONAL BUYERS, PLEASE READ THE VERY BOTTOM OF THIS SECTION AS IT DOES APPLY TO YOU...... I HAVE DOZENS OF OTHER TECHNOFIX, ARNOLD, BANDAI, YONEZAWA, SCHUCO, ETC... BE SURE TO CHECK ME OUT OFTEN AS YOU'LL NEVER KNOW WHEN YOU MIGHT SEE THAT SOMETHING SPECIAL WHICH MIGHT JUST FILL THAT VOID IN YOUR PERSONAL COLLECTION! THIS IS WHERE I THANK YOU FOR YOUR TIME IN READING ALL OF THE ABOVE. IN ORDER TO VIEW MY LISTINGS IN A CONCISE AND ORDERLY FASHION, ALL YOU NEED DO IS TO LOCATE THAT SMALL "RED" DOOR A TOP THIS PAGE. THIS IS LOCATED JUST BELOW MY SELLERS ID AND FEEDBACK TALLY. IN ORDER TO STREAMLINE YOUR SEARCH FURTHER, ONCE YOUR IN MY STORE, TO THE LEFT YOU WILL SEE A "SEARCH" BAR, IF YOU'D LIKE TO SEE JUST MY MODEL CARS, JUST TYPE IN "MODEL CAR" AND JUST MY LISTED MODEL CARS WILL POP-UP.
IF YOU'D LIKE TO SEE SOME LP'S... I THINK YOU GET THE GIST OF THIS NOW! I HAVE A LIST OF CATEGORIES THAT WILL ASSIST YOU IN STREAMLINING YOUR SEARCH AS WELL. A NEW CATEGORY HAS BEEN ADDED WHICH IS "VINTAGE/ANTIQUE TOYS", BE SURE TO CHECK THIS OUT!
ONCE AGAIN, I THANK YOU FOR YOUR CONSIDERATIONS ON THIS EVER-SO-LIGHTLY USED, MUSEUM QUALITY, MARKE/TECHNOFIX NUMBER 326 "LOOP THE LOOP" WITH IT'S ORIGINAL BOX AND IT'S ORIGINAL PROTECTIVE INSERT FROM 1969. WHICH HAS BOTH OF THE ORIGINAL RACE CARS WITH BOTH OF THE ORIGINAL DUAL EXHAUST PIPES STILL FACTORY ATTACHED AND FOR ANY OTHER CONSIDERATIONS THAT YOU MIGHT HAVE GIVEN ME IN THE PAST......
The item "1969 TECHNOFIX NR. 326 LOOP THE LOOP IN SHOWCASE CONDITION, FULLY WORKING WithBOX" is in sale since Sunday, October 20, 2019.
This item is in the category "Toys & Hobbies\Vintage & Antique Toys\Wind-up Toys".911" and is located in Coventry, Rhode Island. This item can be shipped worldwide.
Brand: MARKE/TECHNOFIX
Gender: UNI-SEX/COLLECTORS.
THIS TECHNOFIX MODEL WAS/IS:: MADE IN WESTERN GERMANY.


---