1970 TECHNOFIX NR. 328 RALLYE With4 RACE CARS SET, 100% COMPLETE & WORKING WithBOX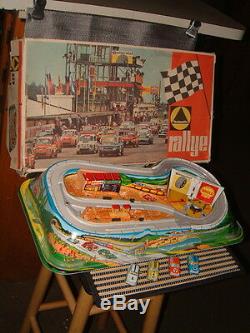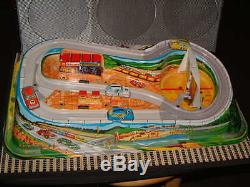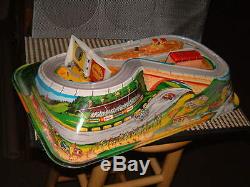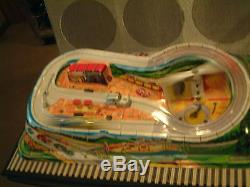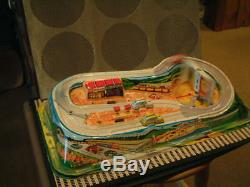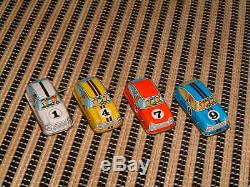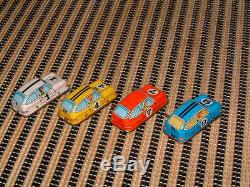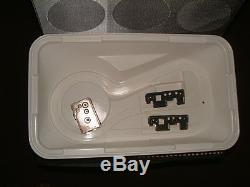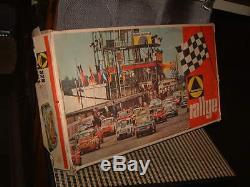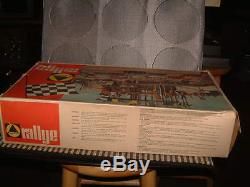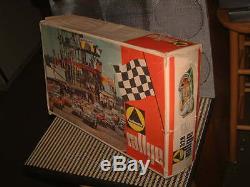 THIS IS THE MODEL NUMBER 328 WHICH WAS THE FIRST OF FIVE (5) ITEMS OFFERED IN 1970. AS SUCH THIS IS/WAS MADE IN LATE 1969 IN WESTERN GERMANY. AS THE GERMANS CALL THIS, IT IS THEIR "RALLYE MIT 4 WAGEN", OR RALLY WITH 4 CARS. THIS RALLYE MODEL/TRACK IS IN PERFECT WORKING CONDITION!
THE VACUUM FORMED BASE LOOKS LIKE IT WAS MADE LAST WEEK! BUT, THIS IS AN ORIGINAL EXAMPLE OF THIS RARE, ORIGINAL AND FULLY WORKING ITEM FROM MARKE/TECHNOFIX FROM WESTERN GERMANY. THE PLASTIC AND TIN ARE IN EXCELLENT ALL AROUND CONDITION AS IT HAS BEEN MORE THAN WELL CARED FOR IN MY HEATED BASEMENT FOR MANY A YEARS NOW.
THIS IS ONE OF THEIR FIRST MODELS THAT WAS INTRODUCED WITH NO TIN WORK OR METAL SECTIONS LOCATED ON THE TOP OF THE BASE ITSELF. THE TIN USED HERE IS TO ALLOW THE CARS TO "BREAK" OR SLOW DOWN AS THEY ENTER THE FILLING STATION AND TO HOLD THE CARS UNTIL SUCH A TIME COMES TO RELEASE IT. MOST OF THIS IS LOCATED ON THE UNDERSIDE OF THE BASE. ALL FOUR (4) VEHICLES ARE ALSO MADE OF 100% TIN (METAL). AS I JUST MENTIONED, THE BASE IS MADE FROM A VACUUM FORM WHICH USES FLAT, PRINTED SHEETS OF A THICK GAGE PLASTIC.
THESE ARE CUT INTO INDIVIDUAL SECTIONS AND THEN PLACED WITHIN AN OVEN WHICH WILL HEAT UP THE PLASTIC TO A POINT WHERE IT CAN BE PULLED INTO A MOLD IN WHICH ALL OF THE AIR IS "VACUUMED" OR SUCKED OUT OF AND THEN COOLED DOWN TO KEEP IT'S SHAPE OR.... JUST LIKE THE OLD MATTEL "VAC-U-FORM" TOYS THAT WERE ONCE AVAILABLE... ONLY ON A MUCH LARGER SCALE!
THIS BASE IS AS CLOSE TO NOS (NEW OLD STOCK) AS ONE COULD ASK FOR. NOT ONLY DOES IT LOOK PRETTY, IT LIES TOTALLY FLAT AND HAS NO WARPS OR DIS-FORMATIONS ANYWHERE ON IT.
THIS ALLOWS ALL OF THE CARS TO TRAVEL AROUND THIS TRACK AT GOOD SPEEDS AND NEVER NEEDING ANY ASSISTANCE! THE UNDERSIDE OF THIS BASE IS IN SHOWCASE SHAPE/CONDITION WITH NO CRACKS, SPLINTERS, STRESS MARKS OR REPAIRS FOUND.
THE CLOCKWORK DRIVE IS STRONG, LONG LASTING AND ORIGINAL. THE "SIGN" IS MADE OF PLASTIC AND HAS FOUR (4) STICKERS PLACED ON IT FROM THE FACTORY. THESE ARE ALL ORIGINAL, BUT, AS WITH ALL STICKERS FROM THIS ERA, THE ADHESIVE HAS BLEED THROUGH IT IN SOME AREAS. UNFORTUNATELY, BACK IN THE LATE 1960'S WE DID NOT HAVE THE UNDERSTANDING OF PLASTICS AND ADHESIVES THAT WE DO TODAY! THE ORIGINAL FOUR (4) RALLYE CARS ARE TRUE NOS (NEW OLD STOCK).... AS CHILDREN WE WERE VERY FORTUNATE TO HAVE HAD OUR DAD WORK FOR A SMALL TOY DISTRIBUTOR OUT OF NYC. SO, I DUG AROUND AND FOUND AN EXTRA SET OF THESE FOUR (4) TIN RALLYE CARS AND PLACED THEM WITH THIS LISTING AS THIS IS ONE OF THE BEST EXAMPLES OF THIS 328 THAT I HAVE AVAILABLE. TO USE THIS MODEL, YOU SIMPLY REMOVE THE TRACK FROM IT'S ORIGINAL BOX AND PLACE IT ON A HARD, LEVEL SURFACE. YOU THEN MAKE SURE THAT THE "START/STOP" SWITCH IS IN THE "STOP" POSITION AND WIND UP THE STRONG CLOCKWORK DRIVE. JUST HOW MUCH YOU WIND THIS UP IS UP TO YOU. I NEVER TRY TO REACH THE END OF THE LINE HERE AS THESE MAINSPRINGS ARE OLD AND THEY CAN AND DO BREAK FROM BEING OVER-WOUND, SO WITH A LITTLE DILIGENCE EXERCISED HERE, YOU'LL BE ABLE TO GET DECADES OUT OF PLEASURE AND USE AS I HAVE! THIS IS AN INTERACTIVE GAME WHICH REQUIRES SOME PARTICIPATION TO MAKE IT WORK SMOOTHLY AND AS DESIGNED. FIRST, YOU SHOULD STUDY THE TRACK AND YOU'LL SEE TO THE FAR LEFT YOU HAVE A FORK IN THE ROAD AND A SMALL GREY PLASTIC ARM WHICH CONTROLS THE LANE IN WHICH THE NEXT VEHICLE WILL TRAVEL DOWN.
THIS IS RIVETED INTO THE BASE AND YOU SIMPLY USE THE SMALL LEVER TO SHIFT LANES. NEXT YOU WILL NOTICE THAT ALL OF THE VEHICLES HAVE NO CLOCKWORK DRIVE. THEY USE GRAVITY AS A MEANS OF PROPULSION. YOU WILL ALSO NOTE THAT THEY ALL HAVE A SMALL "PIN" STICKING OUT OF THE REAR AXEL.... WITH THIS UNDERSTOOD, YOU PLACE TWO (2) OF THE VEHICLES BETWEEN THE TIN TABS LOCATED JUST LEFT OF THE CENTER OF THIS TRACK (HEADING DOWN THE HILL).
NEXT, YOU SWITCH THE POWER TO "START" AND THE "SIGN" WILL START TO REVOLVE IN A CLOCKWISE DIRECTION. NOW YOU PLACE ONE VEHICLE AT THE TOP OF THE INCLINE AND RELEASE IT (SO IT'S FACING AND TRAVELING DOWN HILL).... DEPENDING ON WHAT LANE YOU HAVE CLOSED OFF, THE VEHICLE YOU JUST RELEASED WILL TRAVEL DOWN AND "BUMP" INTO ONE OF THE PARKED VEHICLES AND REPLACES IT. NOW THE VEHICLE WHICH WAS JUST RELEASED FINDS IT'S WAY TO THE BOTTOM OF THE INCLINE. HERE THE SWINGING SIGN CATCHES THIS "PIN" WHICH IS STICKING OUT OF THE REAR AXEL AND SWINGS THE VEHICLE UP THE INCLINE ONLY TO RELEASE IT AT THE PEAK OF THE HILL ALLOWING GRAVITY TO TAKE OVER FROM THIS POINT ON. AT ANY TIME YOU CAN PLACE THE LAST (4TH) VEHICLE ON THIS TRACK AND HERE YOU CAN SWITCH BETWEEN THE LEFT AND RIGHT SIDE OF THE GAS STATION. SOMETIMES YOU WILL GET THE VEHICLES TOO CLOSE TO ONE ANOTHER AND HERE'S WHEN THE SKILL COMES INTO PLAY! THESE VEHICLES CAN REPEAT THIS CYCLE/CIRCUIT ABOUT 10-16 TIMES, DEPENDING ON HOW MUCH YOU WIND IT UP.
ONCE AGAIN, BY FORCE ON HABIT, I NEVER TRY TO REACH THE END WHEN WINDING ANY OF MY CLOCKWORK ITEMS. I WOULD RATHER PLAY IT SAFE THEN TO DEAL WITH THE CONSEQUENCES OF OVER-WINDING IT! YOU CAN SEE THAT IN A COUPLE OF MY PICTURES THESE VEHICLES ARE FLYING AROUND THE TRACK.
AT FIRST, THESE PICTURES LOOK LIKE YOU HAVE JUST 2 VEHICLES ON IT, BUT LOOK CLOSELY AND YOU CAN SEE THE "BLURS" AS THEY STREAK AROUND THIS TRACK EFFORTLESSLY AND QUICKLY! THE ORIGINAL BOX IS INCLUDED AND YOU DO HAVE SOME ADDED TAPE ON SOME TO MOST OF THE END FLAPS.
ALL OF THIS TAPE IS LOCATED ON THE INSIDE OF THE BOX ITSELF. YOU HAVE SOME TEARING ON THESE ENDS AS WELL AND HERE IS WHY THE TAPE WAS APPLIED. YOU ALSO HAVE SOME LIGHT TEARING ON SOME OF THE SEAMS AND A SMALL PIECE HAS GONE MISSING ON ONE OF THE ENDS WHICH TUCKS INTO THE OTHER END FLAP. THIS BOX ALSO FOUND IT'S WAY INTO ONE OF MY TOWERS OF TOYS, AS SUCH IT GAVE IN TO THE PRESSURE FROM THE TOYS PLACED ON TOP OF IT.
THIS IS FOUND AS A BOWING IN THE BOX ITSELF. THE ORIGINAL BOX IS IN GOOD CONDITION FOR ITS AGE AND THE COLOR ON THE BOX IS NOT AS SHARP AS TODAY'S STANDARDS, BUT, STILL SHARP AND CLEAN FOR WHAT IT IS.
KEEP IN MIND THAT THE PRINTING WAS DONE IN WESTERN GERMANY BACK IN 1969/1970! NOTHING IS MISSING AND IT IS 100% ORIGINAL AND AS MENTIONED ABOVE FULLY OPERATIONAL!! ALL YOU WILL HAVE TO DO IS TO CAREFULLY OPEN IT AND WIND IT UP AS NO TWEAKING IS NEEDED, IT'S READY TO RUN OR "RTR" AS THEY SAY! ALL OF WHAT YOU SEE IN MY PICTURES IS ORIGINAL AND UNTOUCHED. I TAKE PRIDE IN MY ITEMS/MODELS THAT I OFFER HERE IN THE E-BAY WORLD. I DO HAVE OPTIONS AND I CHOOSE TO OFFER ONLY THE VERY FINEST THAT I HAVE AVAILABLE. I TEST EVERYTHING PRIOR TO LISTING THEM AND ONCE AGAIN PRIOR TO SENDING THEM OFF. I DO THIS SO WE WILL BOTH BE VERY HAPPY WITH THE END RESULT, IT'S THE ONLY WAY I DO THINGS! PLEASE TAKE A GOOD LOOK AT THESE PICTURES AS THESE DO BECOME A VITAL AND KEY PART OF THE DESCRIPTION AND IF YOU HAVE ANY QUESTIONS OR DESIRE ADDITIONAL PICTURES, PLEASE FEEL FREE TO CONTACT ME VIA E-BAY MESSAGING AND I WILL DO THE REST! THIS IS A RELATIVELY NEW STORE FOR ME HERE ON E-BAY, BUT, I COME WITH A WELL OILED AND POLISHED TRACK RECORD! A GOLD T/RATED POWERSELLER WITH OVER 5 YEARS OF THIS STATUS BACKING ME. I SPECIALIZE IN PRIMARILY THE AUTOMOTIVE FIELD AND I CONCENTRATE WITH/ON PORSCHE, BENTLEY, AUDI AND "PORSCHE DESIGN" ITEMS/ACCESSORIES. I HAVE A UPS ACCOUNT AND MOST OF MY OFFERINGS HERE SHALL BE SENT THAT WAY. I PACK EACH AND EVERY ITEM MYSELF AND DO SO AS IF I WERE RECEIVING IT. THIS TECHNOFIX 328 RALLYE WILL BE SENT VIA UPS AND WILL BE FULLY INSURED.
UTILIZING THIS METHOD TO OBTAIN ONES SIGNATURE IS THE MOST ECONOMICAL ROUTE TO GO...... I DO RESERVE THE RIGHT TO SUBSTITUTE DHL AS AN INTERNATIONAL CARRIER (AT MY EXPENSE). SO PLEASE BE PREPARED FOR THIS ON YOUR END! I DO RESERVE THE RIGHT YO SUBSTITUTE DHL AS AN INTERNATIONAL CARRIER (AT MY EXPENSE).
AS MENTIONED ABOVE, THIS IS A NEW AREA FOR ME (HERE ON E-BAY) AND I DO TRY MY BEST TO DO AS GOOD AS I CAN. THIS HAS BECOME A FULL TIME BUSINESS FOR ME AND I REALLY ENJOY DOING IT. I WILL CONTINUE TO DO SO TILL IT BECOMES A BURDEN AND I CAN NO LONGER ENJOY IT. I WILL BE ADDING TO THIS STORE WEEKLY (OR TRYING TO) AND HOPEFULLY YOU WILL SEE THAT I DO EXACTLY WHAT I SAY AND DO SO IN A VERY TIMELY FASHION. IF YOU HAVE ANY PROBLEM PAYING WHAT IT COSTS TO RECEIVE THIS BEAUTIFUL AND FULLY FUNCTIONING TECHNOFIX RALLYE MODEL FROM ME IN A TIMELY AND SAFE MANNER, THEN ONCE AGAIN, I STRONGLY SUGGEST AND ASK THAT YOU PASS ON THIS.
INTERNATIONAL BUYERS, PLEASE READ THE VERY BOTTOM OF THIS SECTION AS IT DOES APPLY TO YOU.... INTERNATIONAL BUYERS, PLEASE READ THE VERY BOTTOM OF THIS SECTION AS IT DOES APPLY TO YOU...... I HAVE DOZENS OF OTHER TECHNOFIX, ARNOLD, BANDAI, YONEZAWA, SCHUCO, ECT... BE SURE TO CHECK ME OUT OFTEN AS YOU'LL NEVER KNOW WHEN YOU MIGHT SEE THAT SOMETHING SPECIAL WHICH MIGHT JUST FILL THAT VOID IN YOUR PERSONAL COLLECTION!
THIS IS WHERE I THANK YOU FOR YOUR TIME IN READING ALL OF THE ABOVE. IN ORDER TO VIEW MY LISTINGS IN A CONCISE AND ORDERLY FASHION, ALL YOU NEED DO IS TO LOCATE THAT SMALL "RED" DOOR A TOP THIS PAGE. THIS IS LOCATED JUST BELOW MY SELLERS ID AND FEEDBACK TALLY. IN ORDER TO STREAMLINE YOUR SEARCH FURTHER, ONCE YOUR IN MY STORE, TO THE LEFT YOU WILL SEE A "SEARCH" BAR, IF YOU'D LIKE TO SEE JUST MY MODEL CARS, JUST TYPE IN "MODEL CAR" AND JUST MY LISTED MODEL CARS WILL POP-UP.
IF YOU'D LIKE TO SEE SOME LP'S... I THINK YOU GET THE JIST OF THIS NOW! I HAVE A LIST OF CATEGORIES THAT WILL ASSIST YOU IN STREAMLINING YOUR SEARCH AS WELL. A NEW CATEGORY HAS BEEN ADDED WHICH IS "VINTAGE/ANTIQUE TOYS", BE SURE TO CHECK THIS OUT! ONCE AGAIN, I THANK YOU FOR YOUR CONSIDERATIONS ON THIS EVER-SO-LIGHTLY USED MARKE/TECHNOFIX NUMBER 328 RALLYE MIT 4 WAGEN (RALLE WITH 4 CARS) WITH IT'S ORIGINAL BOX FROM 1970 AND FOR ANY OTHER CONSIDERATIONS THAT YOU MIGHT HAVE GIVEN ME IN THE PAST......
IF YOU HAVE ANY ISSUES WITH DHL, PLEASE LET THIS BE KNOWN FROM THE START AND WE WILL SEEK ALTERNATIVE OPTIONS. The item "1970 TECHNOFIX NR. 328 RALLYE With4 RACE CARS SET, 100% COMPLETE & WORKING WithBOX" is in sale since Sunday, April 14, 2019. This item is in the category "Toys & Hobbies\Vintage & Antique Toys\Wind-up Toys".
911" and is located in North Kingstown, Rhode Island. This item can be shipped worldwide.
Brand: MARKE/TECHNOFIX
Year: 1970
Gender: UNI-SEX/COLLECTORS.
THIS TECHNOFIX MODEL WAS/IS:: MADE IN WESTERN GERMANY.



---