1970 TECHNOFIX NR. 330 TWIN TRAIN 100% COMPLETE & WORKING WithORIGINAL BOX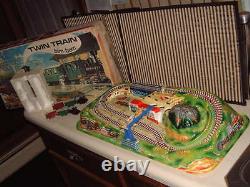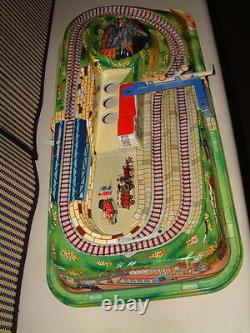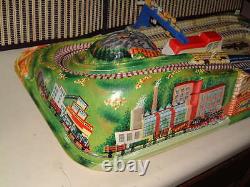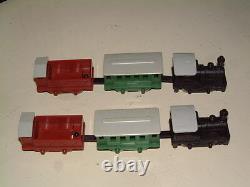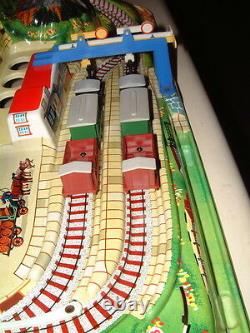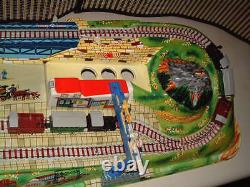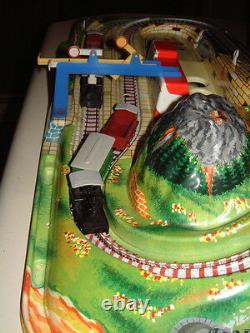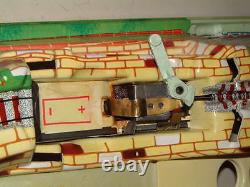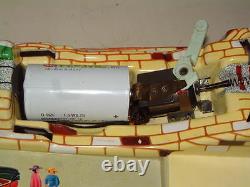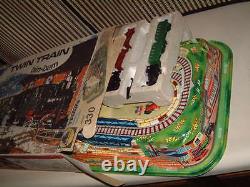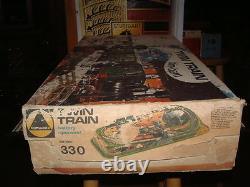 THIS IS THE MODEL NUMBER 330 WHICH IS/WAS THE THIRD (3RD) OF FIVE (5) MODELS MADE/INTRODUCED IN 19 70. THIS SET WAS MADE IN WESTERN GERMANY AND IT IS SIMPLY KNOWN AS THE "TWIN TRAIN"! THIS IS A BATTERY OPERATED MODEL/SET/TRACK AND HAS NO CLOCKWORK MOTORS.
THIS TWIN TRAIN MODEL/TRA CK IS IN PERFECT WORKING CONDI TION! THE BASE/TRACK LOOKS LIKE IT WAS MADE EARLIER THIS YEAR, BUT, THIS IS AN ORIGINA L EXAMPLE OF THIS RARE ITEM FROM MARKE/TECHNOFIX FROM WESTERN GERMANY. THE COLOR, CONDITION AND TIN ARE IN EXCELLENT ALL AROUND CONDITION AS IT HAS BEEN MORE TH A N WELL CARED FOR IN MY HEATED BASEMENT FOR MANY A YEARS NOW.
PRIOR TO THAT, IT WAS IN M Y PARE NT'S HOME IN MY OLD BEDROOM, STASHED IN AN OLD WALK IN CLOSET. THE BASE IS MADE FROM A VACUUM FORM AND IS A TYPE OF PLASTIC. THE ONLY TIN ON THIS ITEM IS THE SMALL REMOVABLE BATTERY TOP. THE BALANCE OF THIS ITEM IS MADE FROM SOME SORT OF PLASTIC.
EVEN THE ORIGINAL TWIN TRAINS ARE MADE FROM PLASTIC, BUT, DO HAVE STEEL WHEELS. WHAT M A K ES THIS MODEL/ITEM SO SPECIAL IS THAT NOT ONLY IS I T I N PERFECT CONDITION, WITH NO TWEAKS, CRACKS OR CREASES ON THE PLASTIC BASE , IT HAS BOTH OF THE ORIGINAL TRAINS WITH TENDERS AND PASSENGER CARS AND HAS THE ORIGINAL BOX. THESE TRAINS HAVE NO CLOCKWORK MOVEMENT WITHIN THEM... THEY USE GRAVITY AS A MEANS OF MOVEMENT DOWN HILL THAT IS!!
THE TIN SECTION LOCATED ON THIS ITEM IS IN EXCELLENT OVERALL CONDITION, AS IS THE PLASTIC BASE AND TRAINS! AS YOU CAN SEE THIS HAS BEEN WELL STOR ED OVER THE DECADES. AS FAR AS THE BASE GOES, YOU WILL BE HARD PRESSED TO LOCATE A BETT ER EXAMPLE OF THIS, THERE ARE NO STRESS CRACKS OR SPLINTERS ANYWHERE. IT IS SOLID AND COMPLETE.
THE ONLY ISSUE WOULD BE A VERY LITTLE CORROSION DID FIND IT'S WAY INTO THE BATTERY COMPARTMENT AND THIS IS ISOLATED TO ONE SIDE AND ON THE BOTTOM. A BATTERY WAS KEPT WITHIN THIS AND DID LEAK. IT WAS REMOVED BY MAY SON SOME 14 YEARS AGO AND HAS GOTTEN NO WORSE. THE TWO (2) ORIG INAL TRAINS ARE AS NEW WITH VERY....
VERY LITTLE SIGNS OF USAGE. THESE ARE COMPLETE AND ROLL PERFECTLY. EACH TRAIN HAS A TENDER AND PASSENGER CAR. THESE ARE CONNECTED BY LITTLE CLIPS (4 OF THEM) WHICH ARE ALSO INCLUDED. IN FACT THESE TRAINS ARE STILL CONTAINED WITHIN THEIR STYROFOAM CONTAINER WITHIN THE BOX (AS PICTURED)!
AS YOU CAN SEE THE THEME OF THIS ITEM IS "TWIN TRAIN". THIS MODEL IS BATTERY OPERATED AND IT USES A SINGLE SIZE "D" BATTERY. IN ORDER TO USE THIS, YOU START BY PLACING THE BASE ON A FLAT SURFACE. YOU THEN FOLLOW THE PICTURE IN THE BATTERY BOX AND PLACE THE SINGLE SIZE "D" BATTERY INTO PLACE. YOU REPLACE THE BATTERY COVER WHICH IS ALSO PART OF THE TRACK. MAKE SURE YOU TUCK IN THE END NEAR THE SWITCH!! YOU THEN PLACE A TRAIN ON THE TRACK INTO EITHER ONE OF THE TRACKS PRIOR TO THE STATION.
YOU REPEAT THIS WITH THE SECOND TRAIN ONLY PLACING IT ONTO THE OTHER (NON-OCCUPIED) TRACK. YOU NEED TO PLACE THE TWO (2) CONNECTORS INTO THE TRAINS ENGINE AND THEN THE PASSENGER CAR AND THEN THE PASSENGER CAR TO THE TENDER. THIS MAKES THESE TRAINS "STAY TOGETHER" WHILE IT RUNS THE COURSE. ALSO MAKE SURE BOTH HANDLES ARE PUSHED IN. WHEN THESE HANDLES ARE PULLED OUT (ONE WHITE AND ONE YELLOW) IT RELEASES THE TRAIN ON THE TRACK.
NOW YOU SWITCH THE TRACK ON, WHICH IS LOCATED ON THE FAR SIDE AND IS JUST BELOW THE TIN BATTERY TOP. NOW YOU HAVE THE OPTION TO TURN THE BELL "ON" OR "OFF". THE LARGE HIDDEN SPRING WILL TURN AND NOW IT IS TIME TO GET THE TRAINS MOVING...... THIS BELL IS SORT OF RANDOM AND USUALLY WORKS WHEN A TRAIN IS CLOSE TO THE TOP OF THE SPRING DRIVE (NEAR THE BATTERY BOX).
NOW YOU PULL EITHER THE YELLOW OR WHITE TAB TO RELEASE A TRAIN.... IT WILL (VIA GRAVITY) ROLL INTO THE INCLINE AND THE SPRING WILL BE TWISTING AND CARRY THE TRAIN UP THE HILL. AT THE TOP IT WILL RELEASE IT, AND THE TRAIN WILL START ITS QUICK JOURNEY DOWN HILL. NOW IT IS TIME TO RELEASE THE SECOND TRAIN BY PULLING ON THE OTHER TAB. WHILE THE TRAIN IS COMING DOWN HILL, YOU CAN SWITCH WHICH TRACK IT WILL IT WILL TRAVEL INTO BY A SMALL SWITCH LOCATED ON THE LEFT FRONT CORNER.
HERE YOU MOVE IT TO THE LEFT TO STAY ON THE OUTSIDE TRACK AND TO THE RIGHT TO SHIFT INTO THE INSIDE TRACK. YOU HAVE THE OPTION TO STOP EITHER TRAIN AT ANY TIME BY PUSHING IN THE TAB THAT RELEASED THE TRAIN. YOU CAN STOP EITHER OR BOTH TRAINS AT ANY TIME. HERE IT'S PRETTY COOL TO SHIFT TRAINS FROM THE INSIDE TRACK TO THE OUTSIDE TRACK OR TO PARK ONE FOR A WHILE AT THE STATION.
YOU CAN ALTERNATE TRAINS, BUT, IT'S PRETTY TRICKY TO DO AS BOTH TRAINS ARE IDENTICAL! BUT, YOU COULD ALSO PLACE BOTH TENDERS ON ONE ENGINE. YOU REPEAT THE PROCESS UNTIL YOU ARE THROUGH PLAYING/USING THIS MODEL OR THE BATTERY DIES. THIS IS A GREAT SET, BUT, AS A CHILD I WAS INTO CARS AND NOT TRAINS. THIS MODEL TECHNOFIX NUMBER 330 IS IN EXCELLENT SHAPE/CONDITION DUE TO THIS.
THE BASE IS FRAIL AND MOST OF THE TIME THESE GOT DROPPED OR AS A CHILD YOU WOULD LEAN ON IT CAUSING THE BASE TO SPLINTER OR CRACK. MOST OF THESE SETS ENDED UP IN THE GARBAGE DUE TO THIS FACT AND THE TRAINS ALWAYS WENT MISSING!! NOT HAVING ANY CLOCKWORK MOTORS DOES HAVE ITS ADVANTAGES AS YOU HAVE NO NEED TO WIND ANYTHING UP AS NOTHING WINDS DOWN! THIS MODEL WILL RUN UNTIL YOU SHUT HER DOWN! A COMMON ISSUE WITH THESE BATTERY OPERATED SETS IS THE THE SPRING WILL NOT ALWAYS GRAB THE SMALL PIN ON THE FRONT UNDERSIDE OF THE TRAIN.
IF THE TIMING IS OFF BY JUST A BIT IT WILL BOUNCE BACK A LITTLE AND NOT BE ABLE TO CATCH THE SMALL OPENING OF THE SPRING. SOMETIMES YOU MIGHT HAVE TO ASSIST IT, BUT, MOST OF THE TIME IT WORKS GREAT ON ITS OWN (ABOUT 95% OF THE TIME). THIS IS A GREAT GAME/ MODEL THAT WILL KEEP YOU AND YOURS ENTERTAINED FOR A LONG TIME! THE ORIGINAL BOX IS IN OK CONDITION, THIS WAS ONE OF THE MANY TOYS THAT WAS INVOLVED IN A MASSIVE WATER GUN FIGHT. THIS BOX WAS A LARGE ONE AND WORKED WELL TO PROTECT ME FROM THE ONSLAUGHT!
BUT, IT DID GET SOAKED AND THIS IS THE END RESULT! A LOT OF THE PRINTING RUBBED OFF WHEN WE DRIED THIS BOX. AS CHILDREN WE JUST USED A TOWEL AND AIR TO DRY IT. KEEP IN MIND THIS BOX WAS PRINTED BACK IN 1969 IN WESTERN GERMANY.
I TOOK A FEW PICTURES OF THIS ORIGINAL BOX. THIS TWIN TRAIN SET ORIGINALLY CAME WITH NO SEPARATE INSTRUCTIONS AS THEY OPTED TO START PRINTING THESE ON THE BOX ITSELF. THESE INSTRUCTIONS DID NOT DO SO WELL IN THE CLEANING UP/DRYING SEGMENT OF OUR WATER GUN FIGHT. THIS "TWIN TRAINS" WORKS PERFECTLY AND NEEDS NOTHING! I TAKE PRIDE IN MY ITEMS/MODELS THAT I OFFER HERE IN THE E-BAY WORLD. I DO HAVE OPTIONS AND I CHOOSE TO OFFER ONLY THE VERY FINEST THAT I HAVE AVAILABLE. I TEST EVERYTHING PRIOR TO LISTING THEM AND ONCE AGAIN PRIOR TO SENDING THEM OFF. I DO THIS SO WE WILL BOTH BE VERY HAPPY WITH THE END RESULT, IT'S THE ONLY WAY I DO THINGS! ONCE AGAIN, PLEASE TAKE A GOOD LOOK AT THESE PICTURES AND IF YOU HAVE ANY QUESTIONS OR DESIRE ADDITIONAL PICTURES, PLEASE FEEL FREE TO CONTACT ME VIA E-BAY MESSAGING AND I WILL DO THE REST! THIS IS A RELATIVELY NEW STORE FOR ME HERE ON E-BAY, BUT, I COME WITH A WELL OILED AND POLISHED TRACK RECORD! A GOLD T/RATED POWERSELLER WITH OVER 5 YEARS OF THIS STATUS BACKING ME. I SPECIALIZE IN PRIMARILY THE AUTOMOTIVE FIELD AND I CONCENTRATE WITH/ON PORSCHE, BENTLEY, AUDI AND. I HAVE A UPS ACCOUNT AND MOST OF MY OFFERINGS HERE SHALL BE SENT THAT WAY. I PACK EACH AND EVERY ITEM MYSELF AND DO SO AS IF I WERE RECEIVING IT.
THIS TECHNOFIX TWIN TRAIN NUMBER 330. WILL BE SENT VIA UPS AND WILL BE FULLY INSURED.
UTILIZING THIS METHOD TO OBTAIN ONES SIGNATURE IS THE MOST ECONOMICAL ROUTE TO GO...... I DO RESERVE THE RIGHT TO SUBSTITUTE DHL AS AN INTERNATIONAL CARRIER (AT MY EXPENSE). SO PLEASE BE PREPARED FOR THIS ON YOUR END!
INTERNATIONAL BUYERS, PLEASE READ THE VERY BOTTOM OF THIS SECTION, AS IT DOES APPLY TO YOU.... AS MENTIONED ABOVE, THIS IS A NEW AREA FOR ME (HERE ON E-BAY) AND I DO TRY MY BEST TO DO AS GOOD AS I CAN.
THIS HAS BECOME A FULL TIME BUSINESS FOR ME AND I REALLY ENJOY DOING IT. I WILL CONTINUE TO DO SO TILL IT BECOMES A BURDEN AND I CAN NO LONGER ENJOY IT. I WILL BE ADDING TO THIS STORE WEEKLY (OR TRYING TO) AND HOPEFULLY YOU WILL SEE THAT I DO EXACTLY WHAT I SAY AND DO SO IN A VERY TIMELY FASHION. I HAVE DOZEN S OF OTHER TECHNOFIX , ARNOLD AND MARX ITEMS. I WILL BE ADDING SOME OF THESE EVERY NOW AND THE N, SOME LIKE THIS "TWIN TRAINS" ARE DUPLICATES.
BE SURE TO CHECK ME OUT OFTEN AS YOU'LL NEVER KNOW WHEN YOU MIGHT SEE THA T SOMETHING SPECIAL WHICH MIGHT JUST FILL THAT VOID IN YOUR PERSONAL COLLECTION! THIS IS WHERE I THANK YOU FOR YOUR TIME IN READING ALL OF THE ABOVE. IN ORDER TO VIEW MY LISTINGS IN A CONCISE AND ORDERLY FASHION, ALL YOU NEED DO IS TO LOCATE THAT SMALL.
DOOR A TOP THIS PAGE. THIS IS LOCATED JUST BELOW MY SELLERS ID AND FEEDBACK TALLY. THE VIRTUAL DOOR TO MY STORE HERE ON E-BAY! IN ORDER TO STREAMLINE YOUR SEARCH FURTHER, ONCE YOUR IN MY STORE, TO THE LEFT YOU WILL SEE A "SEARCH" BAR, IF YOU'D LIKE TO SEE JUST MY MODEL CARS, JUST TYPE IN "MODEL CAR" AND JUST MY LISTED MODEL CARS WILL POP-UP. IF YOU'D LIKE TO SEE SOME LP'S...
I THINK YOU GET THE JIST OF THIS NOW! I HAVE A LIST OF CATEGORIES THAT WILL ASSIST YOU IN STREAMLINING YOUR SEARCH AS WELL.
A NEW CATEGORY HAS BEEN ADDED WHICH IS "VINTAGE/ANTIQUE TOYS", BE SURE TO CHECK THIS OUT! ONCE AGAIN, I THANK YOU FOR YOUR CONSIDERATIONS ON THIS EVER-SO-LIGHTLY USED MARKE/TECHNOFIX NUMBER 3 30. TWIN TRAIN , WITH ITS ORIGINAL BOX FROM 1970 AND 2 ORIGINAL TRAINS (IN SHOWCASE CONDITION) AND FOR ANY OTHER CONSIDERATIONS THAT YOU MIGHT HAVE GIVEN ME IN THE PAST.....
IF YOU HAVE ANY ISSUES WITH DHL, PLEASE LET THIS BE KNOWN FROM THE START AND WE WILL SEEK ALTERNATIVE OPTIONS. The item "1970 TECHNOFIX NR. 330 TWIN TRAIN 100% COMPLETE & WORKING WithORIGINAL BOX" is in sale since Monday, March 25, 2019. This item is in the category "Toys & Hobbies\Vintage & Antique Toys\Wind-up Toys".911" and is located in North Kingstown, Rhode Island.
This item can be shipped worldwide.
Brand: MARKE/TECHNOFIX
Year: 1970
Gender: UNI-SEX/COLLECTORS.
THIS TECHNOFIX MODEL WAS/IS:: MADE IN WESTERN GERMANY.



---