EX! DISNEY 1930s CELLULOID DONALD DUCK CAROUSEL ON TIN WIND-UP CART-24 BALL VERS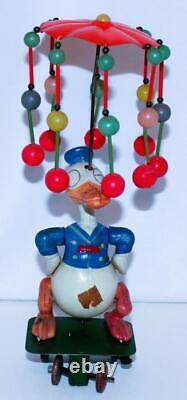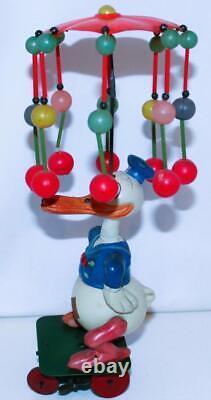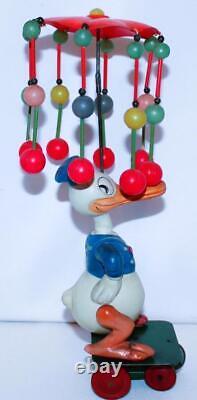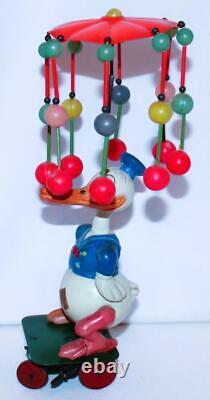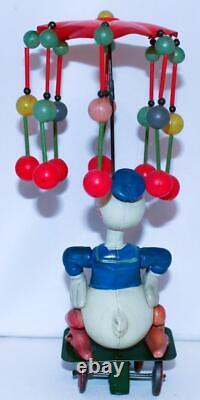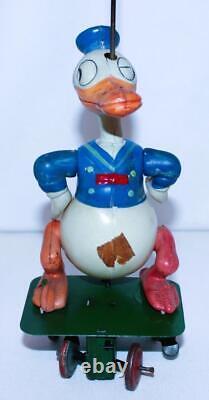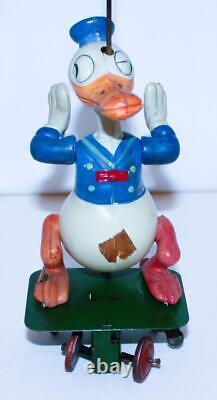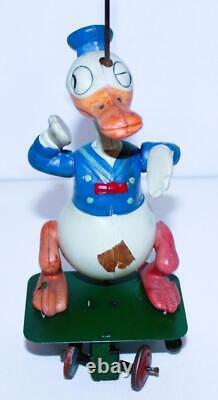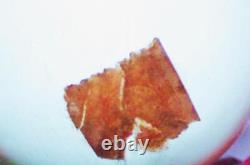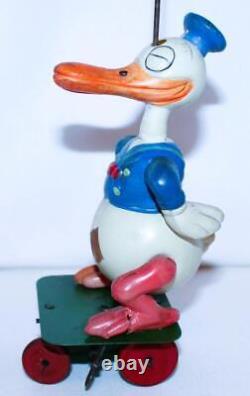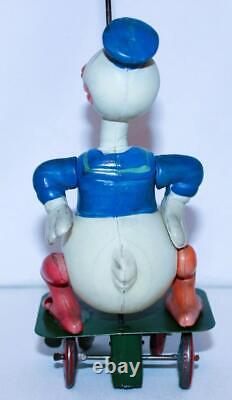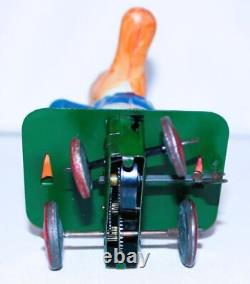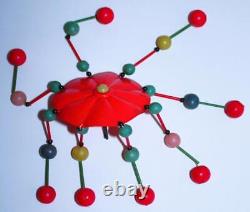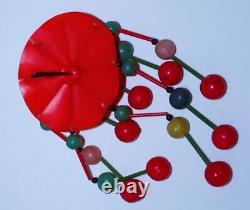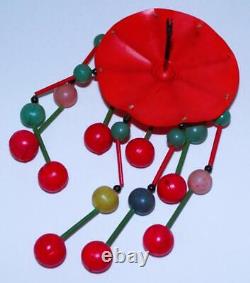 DISNEY 1930s CELLULOID DONALD DUCK CAROUSEL ON TIN WIND-UP CART-24 BALL VERS. DISNEY 1930s CELLULOID "DONALD DUCK CAROUSEL" ON TIN WIND-UP CART. THE EXCLUSIVE DISTRIBUTOR FOR THE TOY WAS THE GEORGE BORGFELDT CORPORATION, NEW YORK. THIS VERY EARLY DISNEYANA VINTAGE TOY IS IN OVERALL EXCELLENT OR BETTER CONDITION WITH ONLY THE SLIGHTEST OF COSMETIC AND/OR CONSTRUCTION DISTRACTIONS. THE TOY IS COMPLETE WITH ALL ORIGINAL PARTS IN PLACE.
THE TOY STANDS APPROXIMATELY 7 1/2" TALL(10 1/2" TO THE TOP OF THE CANOPY) AND. ONCE THE TOY IS WOUND AND RELEASED, DONALD AND HIS CART MOVE AROUND WITH A GRADUAL RIGHT TURN WHILE HIS CAROUSEL TOP SPINS AROUND PUTTING ON QUITE A DRAMATIC DISPLAY. THE 8 VERTICAL STRING OF 24 CELLULOID BALLS SPIN AROUND FAR OUT IN FRONT OF DONALD. THE ACTION IS BEAUTIFUL WITH LOTS OF COLOR FLASHING TO ENJOY. EACH STRING CONTAINS 3 BALLS AS MENTIONED ABOVE.
VERSION OF THIS TOY HAS THE SAME 8 STRINGS, BUT ONLY 2 BALLS ON EACH. BOTH OF DONALD'S ARMS ARE JOINTED AND POSABLE(PHOTO REFERENCES ATTACHED). FOUND ON THE BACK OF DONALD'S SHIRT IS THE FOLLOWING EMBOSSED AUTHENTICITY MARKINGS. DONALD DUCK (C) WALT DISNEY JAPAN. THE STAMP IS A PAPER BASED STYLE WITH RED PRINT ON THE SAME.
MOST OF THE PRINT HAS FADED INTO THE DARKENING OF THE WHITE BASE OVER THE DECADES OF ITS EXISTENCE. I HAVE ATTACHED PHOTO REFERENCES FOR THE SAME. THE CANOPY CAN BE PULLED OFF OF ITS MOUNT ABOVE DONALD IF DESIRED. DONALD'S FEET ARE MOUNTED ON THE TOP OF 2 METAL SPIKES THAT HOLD THEM IN PLACE ON THE METAL PLATFORM. I DO NOT RECOMMEND REMOVING DONALD FROM THE SPIKES UNLESS ABSOLUTELY NECESSARY.
THE CELLULOID AROUND DONALD'S FEET CAN BE EASILY DAMAGED MORE IF DISLODGED FROM THE SPIKES OR IN TRYING TO PUT THEM BACK ON THE SPIKES. MAYBE NOT THE BEST DESIGN IDEA FOR THE MOUNTING OF THE CELLULOID FEET FOR THESE TOYS, BUT THAT IS THE WAY THAT IT WAS.
PLEASE VIEW MY ENCLOSED PHOTO REFERENCES FOR THE BEST TOOL TO USE IN DETERMINING THE. QUALITY OF THE PIECES THAT MAKE UP THIS VERY SPECIAL SET FOR YOURSELF. A PICTURE IS STILL WORTH A THOUSAND WORDS...........
THIS DESCRIPTION, PHOTOS AND SLOGANS ARE COPYRIGHTED BY BRIANCOLLECTIONS4U. NONE OF THESE MENTIONED ITEMS MAY BE USED WITHOUT THE EXPRESS PERMISSION FROM BRIANCOLLECTIONS4U. Auctiva offers Free Image Hosting and Editing.

---