Schuco Solisto Wind-up Drumming Clown With Original Box & Key. Fully Working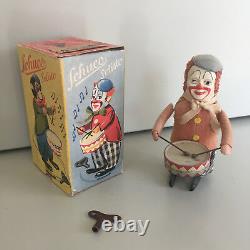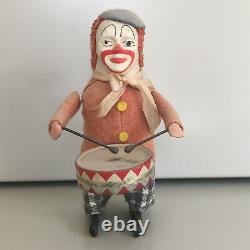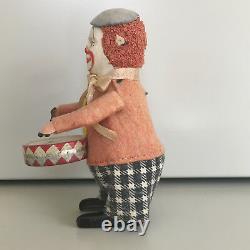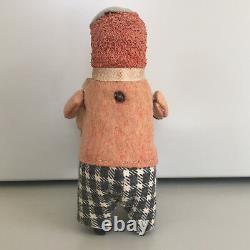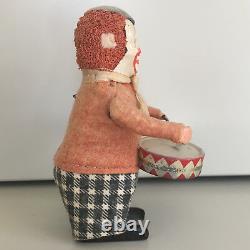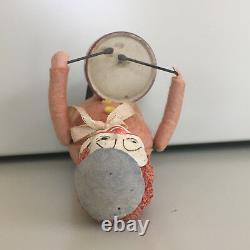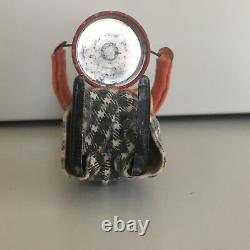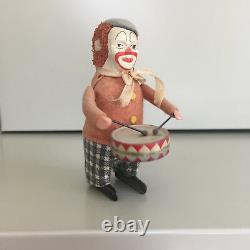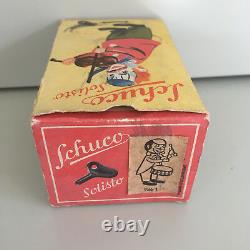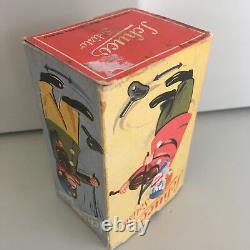 SCHUCO OFFERED THIS "SOLOSTO" IN MORE THEN A FEW CHARACTERS TO INCLUDE THIS CLOWN. I CAN SAY FOR CERTAIN THAT THIS IS AN ORIGINAL "SOLISTO" WHICH IS IN PERFECT OPERATIONAL SHAPE/CONDITION. I N O RIGINAL B OX W ITH K EY. HAVING HUNDREDS OF MODEL CARS TO CHOOSE FROM, MOSTLY PORSCHE AND CORVETTES, I HAVE DECIDED TO START LISTING SOME OF THESE HERE ON E-BAY. 9 5 % OF THESE ARE ONE-OF-A-KINDS LISTINGS AND I WILL DO MY BEST TO SHOW YOU AN ARRAY OF PICTURES AND DESCRIBE THEM TO THE BEST OF MY ABILITY. THIS SCHUCO SOLISTO FIGURINE IS NO EXCEPTION TO THIS RULE! THIS CLOWN IS MADE FULLY OF TIN AND HAS A FELT LIKE COAT WRAPPED AROUND/ONTO IT. THE CLOCKWORK DRIVE IS THE SAME MECHANISM THAT THEY USE IN THEIR MANY OF THEIR POPULAR MODEL CARS TO INCLUDE THE POPULAR WENDE-LIMOUSINE MODEL NUMBER 1010 (ONLY I N A SMALLER VERSION) AND MICRO-RACERS.
EVERYTHING YOU SEE ON THESE FIGURINES ARE ORIGINAL AND STILL FACTORY ATTACHED. ALL OF THE EARS, HANDS, FEET, HAT, DRUM STICKS, ETC ARE 100% ORIGINAL. YOU WILL ALSO NOTE THAT YOU HAVE SOME SLIGHT FADING OF THE COLORS, UNFORTUNATELY THIS IS A VERY COMMON TRAIT AS EVEN INCANDESCENT LIGHTS, OVER TIME, WILL CAUSE THE FADING OF THIS OLDER FELT MATERIAL. WHEN YOU ADD IN A LITTLE NATURAL SUN LIGHT, THE PROCESS SPEEDS UP CONSIDERABLY. FORTUNATELY, THIS SOLISTO HAS BEEN BURIED IN A DRAW IN IT'S ORIGINAL BOX FOR THE PAST FEW DECADES, SO YOU STILL HAVE SOME BRIGHT CONTRAST IN ALL OF THE COLORS.
THIS FIGURINE DISPLAY WELL AND WORKS EVEN BETTER! ALL OF THESE SOLISTO'S ALL DESIGNED WITH THE SAME MOVEMENT AND THAT IS THAT THEY SPIN AROUND IN A FULL 360 DEGREES AND AT DESIGNATED INTERVALS, BOTH ARMS WILL DROP DOWN ALLOWING THE TINY DRUM STICKS TO HIT THE SURFACE OF THE TIN DRUM. ALL THE WHILE THE FIGURINE IS MOVING ABOUT AND SPINNING AROUND, OCCASIONALLY CHANGING IT'S ROTATIONAL DIRECTION, BUT CONSTANTLY BEATING AWAY ON HIS DRUM.
YOU DO NOT HAVE ANY SIGNIFICANT WEAR ON ANY OF THE HEADS, FACE OR FEET ON THIS FIGURINE NOR DO YOU HAVE ANY BUG HOLES ON THEIR CLOTHING. THE ONLY HOLE THAT I CAN SEE WOULD BE ON BOTH OF THE SHOULDERS AND THIS IS NOT FROM WEAR AS IT APPEARS TO BE A METAL TAB WHICH CLIPS ONTO THE FELT SMOULDER HOLDING THE JACKET FIRMLY INTO PLACE. THE BOX HERE WAS USED FOR MOST OF THEIR POPULAR SOLISTO'S (IT'S GENERIC). THEY SHOW A CLOWN AND MONKEY ON THIS BOX. ON THE BOXES TOP LID YOU HAVE A DECAL SHOWING YOU WHAT IS EXACTLY CONTAINED WITHIN THE BOX AND IN THIS EXAMPLE YOU HAVE THE PICTURED CLOWN.
THIS SOLISTO'S WAS/IS MADE IN GERMANY WHILE THE BOX IS HALLMARKED MADE IN THE "US ZONE OF GERMANY". SO THIS TELLS ME THAT THIS IS AN ORIGINAL PRE-WAR SOLISTO WITH A BOX WHICH WAS MADE RIGHT AFTER THE CONCLUSION OF WWII. OR THAT THEY HAD THE PARTS ALREADY MADE (STAMPED OUT) AND STOPPED PRODUCING THESE DURING WWII, SO PRODUCTION STARTED UP ONCE AGAIN RIGHT AFTER THE CONCLUSION OF WWII. EITHER WAS THIS IS AN OLD MODEL AS THE NEWER ONES ARE STAMPED "MADE IN THE US ZONE OF GERMANY". I TAKE PRIDE IN MY MODELS THAT I OFFER HERE IN THE E-BAY WORLD.
I DO HAVE OPTIONS AND I CHOOSE TO OFFER ONLY THE VERY FINEST THAT I HAVE AVAILABLE. I TEST EVERYTHING PRIOR TO LISTING THEM AND ONCE AGAIN PRIOR TO SENDING THEM OFF. I DO THIS SO WE WILL BOTH BE VERY HAPPY WITH THE END RESULT, IT'S THE ONLY WAY I DO THINGS! ONC E AGAIN, THIS SC HUCO CLOCKWORK CLOWN SOLISTO'S WORK P ERFECTLY AND HAS NO ISSUES.
IT WORKS AS DESIGNED AND HAS THE ORIGINAL BOX & KEY. PLEASE KEEP IN MIND THAT THIS IS AN ORIGINAL, VINTAGE, CLOCKWORK MODEL/ITEM AND NOT A REPRODUCTION THEREOF! IT'S OLD AND IT'S USED.... BUT, NEVER HAS IT BEEN ABUSED! AS A COLLECTOR, ONE MUST ASSUME THAT SOME LITTLE QUARKS MIGHT ARISE ON CERTAIN MODELS AND ARE CONSIDERED IN FACT, "NORMAL" AND SOMETIMES EVEN EXPECTED!
YOU HAVE NO SUCH ISSUES WITH ANY OF THESE SOLISTO'S. BUT, THIS DOES NOT MEAN THAT IT WILL WORK PERFECTLY RIGHT OUT OF THE BOX..... EVEN THOUGH I HAVE NEVER HAD AN ISSUE, THAT DOES NOT MEAN ONE WILL NOT ARISE!
THEN HE COMPLAINS LIKE A TODDLE WHO HAS HIS PACIFIER WITHIN SIGHT, BUT SLIGHTLY OUT OF REACH! HAVING MY DAD AS A CO-OWNER OF A TOY DISTRIBUTOR IN NYC FOR CLOSE TO A HALF OF A CENTURY DOES NOT MAKE ME AN EXPERT, HOWEVER HAVING THOUSAND OF UNIQUE TOYS BROUGHT HOME OVER THE YEARS WITH TOTAL AND COMPLETE ACCESS TO THEM (SOME OF WHICH YOU SEE LISTED HERE) SORT OF GIVES ME AN EDGE OVER THESE ROCKET SCIENTISTS! WITH THIS BEING SAID, I WILL TRY TO INFORM YOU OF WHAT IT IS THAT YOU WILL BE RECEIVING FROM ME.
I DO ASK THAT YOU TAKE A GOOD LOOK AT MY PICTURES AS THESE DO A MUCH BETTER JOB OF SHOWING YOU EXACTLY WHAT IT IS THAT YOU WILL BE RECEIVING FROM ME VS. I HAVE NOT EVEN REACHED 30% OF WHAT I HAVE IN HOUSE TO LIST AND I HAVE DUPLICATES OF MANY ITEMS, SOME LISTED AT THIS TIME AND MANY NOT YET LISTED. ALL-IN-ALL YOU WILL BE VERY HARD PRESSED TO LOCATE ANOTHER INDIVIDUAL SOLISTO FROM SCHUCO IN THE CONDITION WHICH APPEARS BEFORE YOU, LET ALONE ONE THAT LOOKS LIKE AND WORKS LIKE THIS ONE DOES!
ADD TO THIS THE FACT THAT YOU HAVE THE ORIGINAL BOX AND THE ORIGINAL KEY AND NOW YOU HAVE SOMETHING THAT ANY COLLECTOR WOULD BE PLEASED TO ADD TO THEIR OWN COLLECTION. ONCE AGAIN, PLEASE TAKE A GOOD LOOK AT THESE PICTURES AS THEY DO BECOME AN IMPORTANT PART OF MY DESCRIPTION AND IF YOU HAVE ANY QUESTIONS OR DESIRE ADDITIONAL PICTURES, PLEASE FEEL FREE TO CONTACT ME VIA E-BAY MESSAGING AND I WILL DO THE REST! THIS IS A RELATIVELY NEW STORE FOR ME HERE ON E-BAY, BUT, I COME WITH A WELL OILED AND POLISHED TRACK RECORD! I SPECIALIZE IN PRIMARILY THE AUTOMOTIVE FIELD AND I CONCENTRATE WITH/ON PORSCHE, BENTLEY, AUDI AND.
I HAVE A UPS ACCOUNT AND MOST OF MY OFFERINGS HERE SHALL BE SENT THAT WAY. I PACK EACH AND EVERY ITEM MYSELF AND DO SO AS IF I WERE RECEIVING IT. UNFORTUNATELY, IN THE PAST I HAVE HAD SOME RUN-IN'S WITH SOME SCRUPULOUS FOLKS WHO BY THEIR VERY NATURE "DO NOT PLAY WELL WITH OTHERS". SO PLEASE DO NOT FAULT ME WHEN IT'S TIME TO LEAVE YOUR FEEDBACK AS I HAVE NO MORE CONTROL OVER THIS THEN YOU DO!
AS MENTIONED ABOVE, THIS IS A NEW AREA FOR ME (HERE ON E-BAY) AND I DO TRY MY BEST TO DO AS GOOD AS I CAN. THIS HAS BECOME A FULL TIME BUSINESS FOR ME AND I REALLY ENJOY DOING IT. I WILL CONTINUE TO DO SO TILL IT BECOMES A BURDEN AND I CAN NO LONGER ENJOY IT. I WILL BE ADDING TO THIS STORE WEEKLY (OR TRYING TO) AND HOPEFULLY YOU WILL SEE THAT I DO EXACTLY WHAT I SAY AND DO SO IN A VERY TIMELY FASHION. INTERNATIONAL BUYERS, PLEASE READ THE VERY BOTTOM OF THIS SECTION AS THIS DOES APPLY TO YOU.... BE SURE TO CHECK ME OUT OFTEN AS YOU'LL NEVER KNOW WHEN YOU MIGHT SEE THA T SOMETHING SPECIAL WHICH MIGHT JUST FILL THAT VOID IN YOUR PERSONAL COLLECTION! THIS IS WHERE I THANK YOU FOR YOUR TIME IN READING ALL OF THE ABOVE.
IN ORDER TO VIEW MY LISTINGS IN A CONCISE AND ORDERLY FASHION, ALL YOU NEED DO IS TO LOCATE THAT SMALL. DOOR A TOP THIS PAGE.
THIS IS LOCATED JUST BELOW MY SELLERS ID AND FEEDBACK TALLY. THE VIRTUAL DOOR TO MY STORE HERE ON E-BAY! NOW JUST MY LISTED SCHUCO ITEMS WILL POP-UP. IF YOU'D LIKE TO SEE SOME LP'S...
I THINK YOU GET THE GIST OF THIS NOW! I HAVE A LIST OF CATEGORIES THAT WILL ASSIST YOU IN STREAMLINING YOUR SEARCH AS WELL. A NEW CATEGORY HAS BEEN ADDED WHICH IS "VINTAGE/ANTIQUE TOYS", BE SURE TO CHECK THIS OUT! ONCE AGAIN, I THANK YOU FOR YOUR CONSIDERATIONS ON THIS LIGHTLY USED AND FULLY TESTED VINTAGE, TIN, CLOCKWORK SOLISTO CLOWN FROM SCHUCO WITH THE ORIGINAL BOX AND KEY AND FOR ANY OTHER CONSIDERATIONS THAT YOU MIGHT HAVE GIVEN ME IN THE PAST.....
The item "SCHUCO SOLISTO WIND-UP DRUMMING CLOWN WITH ORIGINAL BOX & KEY. FULLY WORKING" is in sale since Friday, March 22, 2019. This item is in the category "Toys & Hobbies\Vintage & Antique Toys\Wind-up Toys".
911" and is located in Coventry, Rhode Island. This item can be shipped worldwide.
Gender: UNISEX & COLLECTORS
Country/Region of Manufacture: Germany
LOCATION: DRAWERS
Year: CIRCA 1940'S~ 1950'S.



---